IObit Uninstaller 10.1 PRO (v10.1.0.21) Multilingual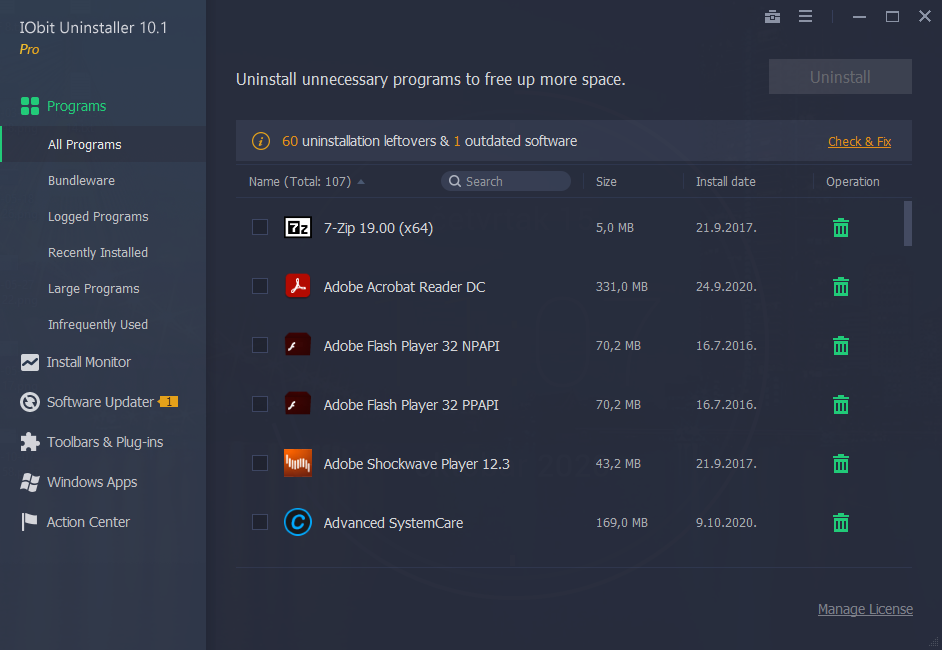 IObit Uninstaller 10.1 PRO (v10.1.0.21) Multilingual
IObit Uninstaller 10 is a perfect uninstallation tool. It provides an easy and secure way to thoroughly remove unwanted programs, Windows Apps, Universal Windows Platform (UWP) apps, and malicious/ad plugins, giving you a clean PC and a secure & smooth online surfing experience.
As the first uninstall utility that comes up with the idea of bundleware removal, IObit Uninstaller has further optimized the algorithm to better detect bundleware at the very time when they are installed, which allows users to uninstall all unwanted bundleware more conveniently and timely.
Other features in IObit Uninstaller are also wonderful. Real-time Install Monitor detects and logs changes made to your system during a program installation, which allows you to see what changes the monitored programs did during the installation. It is worth mentioning that Install Monitor newly supports monitoring system services, scheduled tasks, and DLL registration. Meanwhile, Software Health helps optimize all installed software to make them run smoother and also reduces security risks. Moreover, it newly supports blocking browser site notification prompts from interrupting you. With the enhanced scan engine and greatly expanded database, IObit Uninstaller can remove more stubborn programs and malicious/ad plugins, and ensure all leftovers to be removed thoroughly from the computer just like they've never existed. It also supports removing Windows apps under non-administrator accounts and the latest UWP apps on Windows 10 to free up more storage space. What's more, the optimized Software Updater now supports updating multi-language versions of some popular programs, like Firefox, WinRAR, and Mozilla Thunderbird.
All in all, IObit Uninstaller 10 is an all-in-one uninstallation utility to uninstall software, bundleware, browser extensions, and Windows Apps for a clean and safe PC.
What's new in IObit Uninstaller 10.1:
+ New Stubborn Program Remover to remove stubborn programs much easier
+ Enlarged database to remove 200 more stubborn programs
+ Customize whether to display the Powerful Uninstall option in Windows context menu
+ Customize whether to display system run-time components in program list
+ Fixed the occasional issue of inaccurate program size detection and unstable installation monitoring of oversized programs
+ Fixed all known bugs
Homepage:
https://www.iobit.com/en/advanceduninstallerpro.php