YouTube Video Downloader (Chrome Extension) [Mod] [Ad-Free]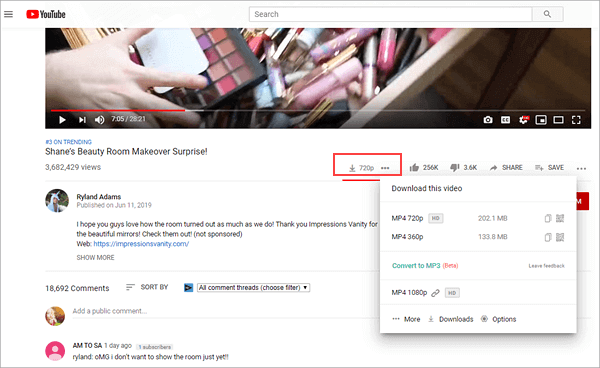 Download YouTube videos with different video quality: 1080P, 720P, 480P, 360p etc. Supports all formats Mp3, MP4, FLV, WebM, 3GP
Brief Description
The YouTube downloader is a specially designed tool that fulfills the downloading requirements of the billions of YouTube user worldwide in all possible aspects. The core quality of the extension is that it will never redirect you to any third party websites.
How it Works
Download video from YouTube
After you have completed the installation, YouTube video downloader extension will automatically add "Download" button below the video you are playing at that time. Click this button and it will display all available formats in which you can download your desired video. Select the required format and save the video directly on to your system.
Convert YouTube videos to MP3
The download button under the YouTube video that you will be playing at any time displays the list of all available MP3 formats in which you can convert your required YouTube video. Click the button and select any of the available MP3 format. It will take around maximum twenty minutes to convert the video in MP3 format depending on video duration.
Key features of the addon
Supported Formats for Video Downloads
It allows the user to download YouTube videos with different high quality options. It offers 2160p (4k), 1440p (2k), 1080p (HD), 720p (HD), 480p, 360p, 144p etc. These video qualities are supported for all available video formats (MP4, FLV, WEBM, 3GP).
Dash Video and Audio Downloads
The YouTube video downloader extension also allows the user to download dash videos and audio streams. Please be informed that dash files do not include any of the audio or video streams.
Homepage:
https://addoncrop.com/youtube-video-downloader/
NOTE:
This exension by default includes ads by adrail, if installed it will display ads on google searches and will have access to any http & https website you visit.
My mod does not allow this, i have removed the permissions to read all sites, it will only now read sites it needs to be able to work, e.g. YouTube and a few more.
Here is the full list of permissions and the ONLY sites it can access:
  "alarms",
      "https://addoncrop.com/*",
      "https://developer.mozilla.org/*",
      "http://www.w3.org/*",
      "https://acrop.net/*",
      "https://www.youtube-nocookie.com/*",
      "https://www.youtube.com/*",
      "https://itunes.apple.com/*",
      "https://api.savevids.net/*",
      "https://imgur.com/*",
      "https://www.facebook.com/*",
      "http://www.tumblr.com/*",
      "https://api.savevids.net/*",
      "https://cdnjs.cloudflare.com/*",
       "storage",
       "tabs",
       "notifications",
       "downloads",
       "downloads.open",
       "webRequest",
       "webRequestBlocking",
       "gcm"
Download contains both the unpacked version and the .crx repacked by me.
Installation Guide (Thanks @HandyPAF :
https://www.howtogeek.com/120743/how-to-install-extensions-from-outside-the-chrome-web-store/
How to load Unpacked Extension (Folder):
go to Chrome > Extensions > look at the top left you will see a button that says "Load unpacked extension" click it and select the folder of the extension
NOTE:
Recommended installation .CRX
If you load an unpacked extension then change or delete the folders location the extension will be removed from Chrome. With .CRX it will be imported into chromes extension folder.